The best way to start your day: a new morning message every single week day of the year!
The best way to start your school day, is with
"This resource is amazing! As a class we have had engaging discussions and wonderful observations have been made too. There are so many outstanding prompts for huddles and class groups, and the jokes and true/false statements help keep the week light and funny as well. An all-around fantastic resource that was well worth the money and I use it every day!"
What are Daily Morning Meetings?
Are you a teacher who needs…
to settle your students at the start of the day or a lesson?
a consistent and fun morning routine in your classroom?
a way to encourage your students to have meaningful conversations or writing prompts?
an effective morning check in to connect with your students and attend to their social emotional needs?
Then these daily morning meeting prompts are all you need, ideal for students aged 9-15!

Every Monday – Friday, a brand new prompt will automatically appear for you to use in your classroom. There are 6 different themes each day; that's more than enough for a different theme every day or multiple themes each day if you prefer!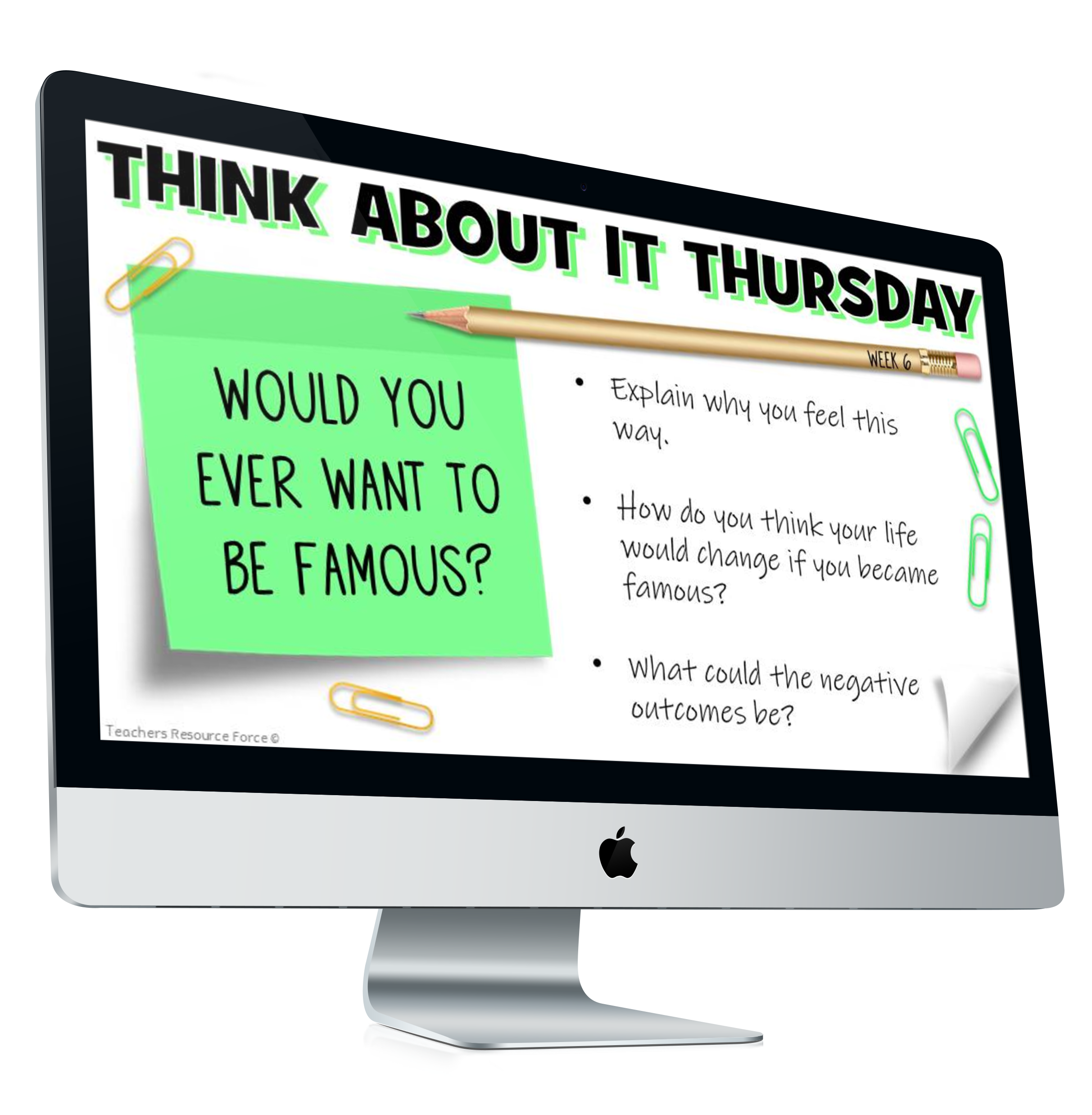 Hundreds of teachers around the world have found their classrooms transformed during face to face and online teaching with these Daily Morning Meetings! The membership site takes your morning meeting messages to the next level though as no resources are required, just the internet!

Simply choose which of the 6 prompts you would like to use (full access only) and off you go! You will never have to plan a morning meeting ever again!
In order to access the daily morning meeting prompts, please select which option you would like to subscribe to. All plans include a FREE 7 day trial!
Please note, full access whether monthly or yearly, provides you will with access to all 6 themes every weekday for the whole year. You can do all 6 prompts each day in the morning, choose a different prompt every lesson or choose a different theme each morning​! The choice is yours:
LIMITED ACCESS
One prompt every weekday.
FULL MONTHLY ACCESS
All six prompts every weekday.
FULL YEARLY ACCESS
All six prompts every weekday. Save 20%!
N.B. if you are interested in school access: there is no option for school wide access sharing one account – the humble cost of membership is priced accordingly to make it affordable for ONE teacher's individual access only. Each teacher will require their own account, even if purchasing for a whole site. Please note, purchase orders are not available. If you have any specific questions, please email katie@teachersresourceforce.com.
These are all genuine testimonials of teachers who have used these Daily Morning Meetings prompts in their classrooms! If you hover the mouse over the testimonial it will pause it, or you can use the arrows to search through all the comments:
"This resource is amazing! As a class we have had engaging discussions and wonderful observations have been made too. There are so many outstanding prompts for huddles and class groups, and the jokes and true/false statements help keep the week light and funny as well. An all-around fantastic resource that was well worth the money and I use it every day!"
"This is THE most used resource in my classroom--it is an essential part of our class opening activities every single day! I so appreciate the variety of facts, jokes, questions, etc and they are consistently engaging for my students and conversation starters daily! Thank you for giving me an easy way to connect with my students remotely and in real life each day!"
"These have been great! I would have loved these when I was an ELA teacher, and now that I am a counselor for distance learning, I use these for morning meetings as conversation starters/ice breakers to get the days started for my early bird students who tune in for morning announcements while the teachers prep for their daily lessons."
"I use these in my morning meeting with my 5th grades. They love these and the responses I get from them blows me away. Definitely on the higher level and I love it!"
"I have just started using this resource with my students on their first week back to school and they enjoyed it thoroughly. It triggers quite a lot of discussion from very different students each day, and expectations as each slide has a new topic. The joke on Friday was useful to teach a new idiom to the class. Thanks!"
"As we toggle back and forth between virtual and in class, this has been a constant for us. My students love this and the one day I didn't use it, I was given grief and had to do two the next day. That is something that I, as a teacher, love!"
"I love that everything is done, every day is already planned out. I can rely on consistency that is put together well. I love not having to think about this in a world of chaos aka distance learning."
"Love this product! They have really responded well to this as we are trying to find some normalcy with this pandemic. They love that we are continuing our Morning Meetings, so this is a great way to help them in this time of weirdness and need."
"This is such a great resource to use, both for morning meetings or to end the day. I love how each day of the week has a different theme, and the children have been enjoying it too. Thank you so much!"
"I do a 20-minute zoom homeroom check-in each day. This was perfect for that morning check-in. It gave a quick topic to talk about each day. I didn't need to think one up. Each day has a theme. Monday-inspires, Tuesday-true/false question, Wednesday-calming technique, Thursday-Think about it, Friday-Joke day. In our homeroom class, I had students that liked to entertain each morning while I was doing the attendance and lunch count so this was a perfect fit for me."
"My students loved starting their day with these morning messages. They enjoyed them and looked forward to them daily. Thank you so very much for this amazing resource! :)"
"These have been the perfect addition to my morning meeting. The kids are always asking for True or False Tuesdays and Funny Friday."
"My students love the daily themes. My class is 100% online and we use this for our daily morning meetings. It aligns perfectly with my district's morning meeting goals. Each morning I present the daily prompt and students write in their morning journals via Google Docs."
"I purchased this to use in my Developmental Education Class. The kids are high school age, but at varying levels of skills and knowledge. I absolutely LOVE it. It is so great to know that I have a guaranteed way to start the day that will get us into the groove. The routines in this kind of class are so important and the students are really engaging with the material. It sparks all sorts of conversations and additional questions ... Thank you so much for creating and sharing this resource. I'm about 4-6 years from retirement and I'm tired of reinventing my material over and over, so having this at my fingertips has been very well worth it."
"My students love to hear a joke at the beginning of each class. This has been a fun resource for them to use."
"This is a fantastic way to start everyday with my students. I would highly recommend it to others."
"My students love the designs and enjoy the conversations that occur because of these prompts."